Halwill Community Market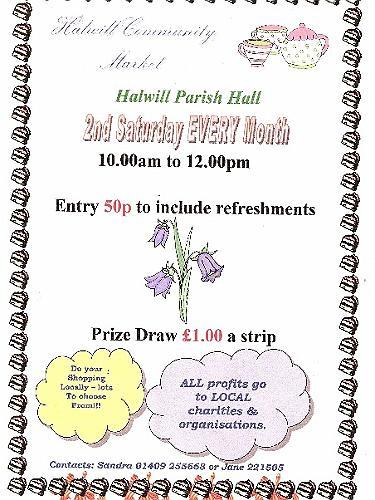 The Halwill Community Market has made donations to various local charities and local community groups in 2016, these include:
Cumbria Flood Relief
Devon Freewheelers
DAAT
Okehampton Community Transport
Holsworthy Community Transport
North Dartmoor Search & Rescue
Halwill Parish Council
Active Halwill
Halwill United Churches
Alzheimer Society
North Devon Hospice
Bloodwise
Halwill Village Hall
Halwill Christmas Lunch (Baptist)
Miss Channing
The grand total for the year is £1,725.00
The Organizers of the monthly market would like to pass these thanks on to everyone who supports us, enabling such donations to be made.
Market Dates for 2017
HALWILL COMMUNITY MARKET 2017
Forth coming dates:-
(Never in January)
SATURDAY
11th FEBRUARY 8th JULY
11th MARCH 12th AUGUST
8th APRIL 9th SEPTEMBER
13th MAY 14th OCTOBER
10th JUNE 11th NOVEMBER
Christmas Market 9th DECEMBER
...............
If you require a table the cost will be £4.00.

Please phone either Sandra on 01409 255668 or Jane on 01409 221505
Doors open for traders 8.30am and for the general public at 10.00am until 12.00 noon.
50p entrance to include a cuppa and biscuit.
Also a raffle at £1.00 a strip. We have some super prizes.
All proceeds from the cost of the table and the raffle go towards charities within the village, local area and some national appeals.
COME AND JOIN US