Halwill QEII Jubilee Celebrations 2012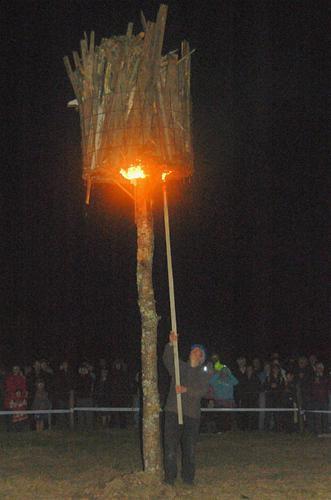 Halwill QEII Jubilee Celebrations 2012
Councillor Barry Parsons, Leader of Torridge District Council and Ward Councillor for Halwill, officially dedicated the revamped car park at the Parish Hall and the new steps from the car park to the playing field, to be known as the Jubilee Steps.
Barry Parsons then drew the winning name of the school child who would have the honour of planting the oak sapling, from one of the Royal estates, on the bank at the top end of the playing field. This honour went to Alex Farmer.
After a bring and share tea prizes were given out to the winners of the best royal crown competition, the winner of the pre school group was Lacey Mae Morris, Key Stage 1 group Ruby Endacott and Key Stage 2 Jai Ley.
This was followed by the presentation of commemorative mugs to children of the parish. A Fun Tug of War between boys and girls, of all ages, became more competitive the older the participants were. The ladies team Captain was the local Police Sergeant, which didn't stop her encouraging bystanders to add to her team to give them victory over the men. This gave everyone an appetite for the barbecue manned by Mike and Sheila Duda and Cath and Mike Stone, the two gentlemen being members of the Parish Council.
Music throughout the evening was provided by John & Richard.
To end the evening, at 10pm everyone left for the field with the Ancient Halwill Tumuli, up Chilla Road, where the Jubilee Beacon was lit by Parish Councillor, John Russell.